Memorial Day Weekend is here and you're kicking yourself for not having planned a mini vacay weeks ago. Stop stressing! There are plenty of things that you can do and places that you can visit on a last minute whim. I always start by asking my friends on Facebook, "What's everyone doing for Memorial Day weekend?" Simple enough isn't it. I usually get plenty of people offering up their plans and sometimes invitations to come along.
If your budget allows for you to travel somewhere fun, Las Vegas, is always a good place to go. Vegas has a little something for everybody. If you're looking to cause some damage to your bank account you can definitely accomplish that in Vegas with gambling, shopping, dining, luxurious suites, entertainment and who knows what else. (insert thoughts here) If funds are a little tight, you can still go to Vegas and have lots of fun. Food is cheap, hotel accommodations can be cheap and if you're lucky enough your entire trip could be comped.
OK, so Vegas isn't your thing and jetting off to Cabo for some fun in the sun isn't in the cards this year what else can you do? I can certainly write a list of all of the places that you can go to, but lets be real, chances are you already know where the top getaway and entertainment places are in your area. Check out Groupon, Travelzoo, Goldstar for discounted deals, you are sure to find inexpensive hotel deals, dinning experiences, attraction deals, entertainment deals, spa days, and lots more all within driving distance from your home.
What types of things can we do if we stay local? How about gathering up the family and taking a road trip to that nearby small town that you've been wanting to go visit. Go eat at one of their mom and pop's restaurants and support the local economy. The shop owners will appreciate it and you will probably discover an amazing homemade apple pie that you can tell everyone about.
So you live next to the beach, a lake or the river… hello, you have lots of options on what you can do over the three day weekend. Call up your friends and plan a day outside. Bring a football, music, boogie boards, snacks, drinks, a beach umbrella, blanket, chairs and have some fun. If you had a great first day repeat it on days two and three.
If you're more of a night owl you might prefer sitting around a campfire and then falling asleep to the sounds of nature. You can camp in your own backyard or camp at a beach, lake, river, park wherever you can legally pitch your tent and enjoy getting away from it all. Make sure to disconnect from the net and enjoy those around you.
Perhaps you're more of a social person, how about planning a themed bar-crawl. Contact your local watering holes and let them know that you have a group of people coming for a short amount of time. Send out an Evite and watch the RSVP's role in, dig in your closet, garage or basement and pull out your Halloween costumes from previous years and put something together. This is sure to spark memories of your prior college sorority fraternity days! Make sure to have a designated driver or arrange for Uber or Taxi pickups at the last location.
How about going on a blockbuster movie release binge this weekend? With Fandango, you can purchase and select your seats ahead of time. Who was the genius that came up with this concept, I'd like to thank them! Sneak in your favorite candy in your pocket book (just kidding don't do that) buy your favorite candy and gigantic popcorn and supersize Slurpee sit back and enjoy the show.
If food is your thing, have a BBQ! Offer to grill up all of the proteins and encourage guests to bring a variety of sides. This can be good or bad depending on who you invite, their level of culinary skills or their willingness to spend money on quality foods. No one wants a tub of macaroni salad from your local warehouse grocery store. On second thought, host the entire event and maybe just make it a BYOB- that's bring your own beverage in case you didn't know. This reduces the chances of food poisoning and nobody needs a case of the Montezuma's.
Here's another suggestion and it's probably the least favorite one, but how about tackling all of those honey do list projects around the house over the long weekend. Perhaps getting some Spring cleaning and getting your Kon-Marie fix in might do you and your house some good. Taking pride in your home is a good thing!
How about kicking off your healthy habits routine by running in a local 1K, 5K, 10K, or Half Marathon race. Earn that race bling and then relax the rest of the weekend.
On a serious note, let us not forget why we have a three day weekend, it's to honor the men and women who served our country and are no longer with us. There are many Memorial Day activities that you can do with your family and friends to honor those people such as visiting a Veteran's cemetery, donating flowers, watching a parade, and visiting a museum such as Hero's Hall located in Costa Mesa, CA. http://www.ocheroeshall.org/
The Palm Springs Museum celebrates Memorial Day A World War II-era B-25 Mitchell bomber airplane drops thousands of red and white carnations to salute fallen comrades, known as the Carnation Drop.https://palmspringsairmuseum.org/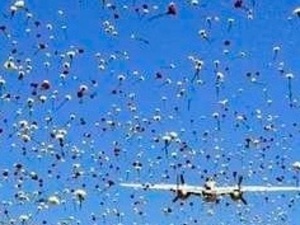 Whatever it is that you decide to do over Memorial Day Weekend, from hosting a BBQ, exploring a new location, relaxing at home, or hanging out at the beach,be safe and celebrate responsibly. We at Eat Travel Fun want to make sure that your unofficial kick-off to summer is a memorable one.